Welcome To Family Roots!
We help families celebrate their history by supplying heraldic items such as family histories, heraldic coats of arms, European designed swords, crested rings and medieval armor.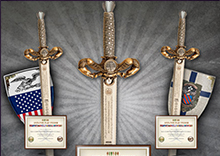 Military Achievements
Our Brave & the Bold Collections celebrate leadership, endurance, courage and heroism. Demonstrate the part you played in making American military history by choosing a Collection featuring authentic handcrafted swords and shields and service citations.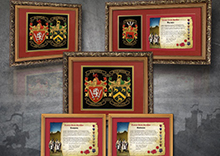 Our Embroidery Collection
Our Embroidery Collections feature authentic family histories and coats of arms. They are a simple way to illustrate your family's unbroken connections back through history.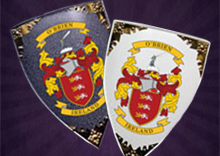 The O' Brien Clan
The O' Brien Clan in conjunction with Family Roots celebrates the 1,000 year anniversary of The Battle Of Clontarf and commemorates the death of The High King – Brian Boru.