Axes of Evil With Premium Sword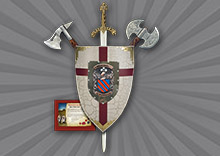 The Axes Of Evil Set brings together a range of authentic, European style swords, shields with a set of war axes in the ultimate warrior set. This collection of weaponry will truly present your heritage in a center piece display to be proud of.
Shipping & handling included.
Price: $1,400