Military Achievements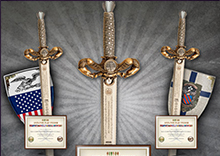 The Military Achievers Sword was commissioned to commemorate those who serve. It came into its own in recent military campaigns and is a limited addition sword.
The sword can be accompanied by a custom made shield for all branches of service. Commemorate your military milestones with an unique piece that will be proudly honored for generations to come.
Shipping & handling included.
Price: $1,200