Framed History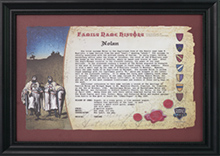 At Family Roots, our research into names of European origin is second to none. Our vast experience in identifying the origins of family names means we can quickly provide you with the story of your name. Nothing asserts your links back through the ages than the story of your ancestral origins.
Printed and framed Family Name History.
BUY NOW 
Display Your Sword, Protect Your Heritage.