Our Medievel Speciallity Range
Featuring Family Seal Rings and Battle Axes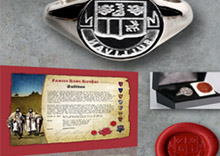 Find Out More!
Family Seal Rings
Family Roots' Crest Seal Rings are made from sterling silver and are individually crafted through a detailed cutting and production process. The solid back construction gives it a quality feel and weight. All rings are cut with the coat of arms in reverse so it can be used as a seal for letters or documents as was the case in days of old. Below the coat of arms is the family name and we also include your printed family name history.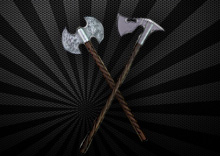 Find Out More!
Battle Axes
The Battle Axe was a crucial instrument with its origins dating back to the Stone Age. Viking warriors are thought to be the first Europeans to adapt an axe from a working tool to a weapon. Since swords were not effectively useful against plate armor, axes were preferred by foot soldiers in close combat during the middle ages. Shorter handled axes were favored by knights for mounted combat. Our Axes come in a pair and are designed from the styles that were actually used in combat.
Display Your Sword, Protect Your Heritage.