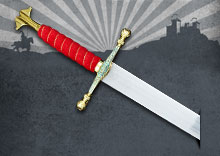 Find Out More!
Carlos V Sword
In 1519 Carlos V was crowned "Roman Emperor" and ruled the largest empire since Charlemagne's reign. His immense empire reigned not just Spain but also America and Austria.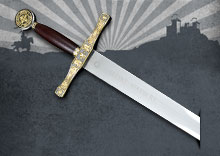 Find Out More!
Excalibur Sword
Excalibur is the mythical sword of King Arthur, sometimes attributed with magical powers or associated with the rightful sovereignty of Great Britain.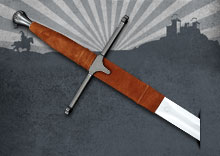 Find Out More!
Infantry Claymore Sword
This is well known as the William Wallace Sword; a Scottish sword. One of Scotland's outstanding national heroes, Wallace had a price placed on his head by King Edward I, known as Longshanks, for treason.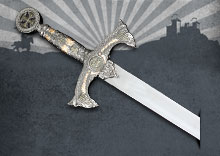 Find Out More!
Knights Templar Sword
The Templar sword is 34 inches of the finest steel and was designed to act both as a thrusting tool for penetrating the joints in plate armor and chain mail, and as a heavy duty hacking tool for splitting skulls and helms alike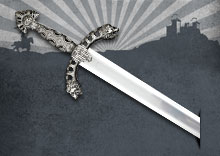 Find Out More!
The Roldan Sword
This historic sword is available in silver with a 32 inch blade. It can be engraved with your choice of wording along the blade up to 20 characters and will include a wall mounting hand grip.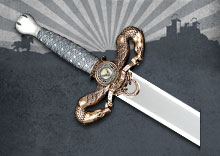 Find Out More!
Military Achievement Sword
This limited addition sword is only available thru Family Roots Inc. Our goal was to commission a design and create a custom piece to honor those who serve.