The Roldan Sword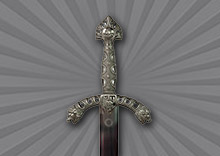 Roldan was a legendary figure of staggering proportion, known for his furious strength and willingness to sacrifice for the greater good. Trapped in the Pyrenean pass after an exhausting siege in Zaragoza, Roldan and his fellow warriors were outflanked and poorly equipped to deal with the sudden attack.
Facing certain annihilation, Roldan sacrificed himself to save the lives of his fellow soldiers. Legend has it he squared off against 100,000 foes with his magic sword Durendal, a personal gift from his lord Charlemagne, and his horn Oliphant. According to lore, with a single strike of his blade, he opened a pass through solid rock to the Pyrenees, known today as "Breche de Roldan" or Roldan's Breech
This historic sword is available in silver with a 32 inch blade. It can be engraved with your choice of wording along the blade up to 20 characters and will include a wall mounting hand grip.
Shipping & handling included.
Price: $780